EMYNOS
EMYNOS is a European Commission-funded project, managed by a European research and innovation consortium in which MCS Data Labs participates. The acronym stands for 'nExt generation eMergencY commuNicatiOnS'. EMYNOS will enable users to make emergency calls across heterogeneous devices such as PCs, TV sets, mobile devices, AAC and haptic devices, using various mature technologies (Session Initiation Protocol, IP Multimedia Subsystem (IMS), WebRTC). The project will also demonstrate how the eCall concept can benefit from the IP technologies by allowing audio-video calls towards the emergency call centers and complementing location information, with photos and videos.
Objectives
The actual emergency systems are based on old-fashioned telecommunication technologies that cannot cope with the new IP-based services that the European citizens use every day. Some of these limitations are summarized below:
There is no standard underlying technology for the separate emergency systems
There is no interconnection among the PSAPs (Public Safety Answering Points): this, unfortunately, limits the transfer of calls in case of congestion and network outage
Media limitation: currently only voice calls and sometimes SMS are accepted
No unified platform: currently emergency warning systems are completely separate from the 112 emergency centers
There are no advanced features, such as caller location
Emergency calls are unidirectional: they are established from the end-users towards the PSAP
There is no non-telecommunication platform as a backup in case the telecommunication infrastructure is not operational
Social media are not integrated: handling emergency situation should not only be the task of the rescue teams. Involving citizens especially through social media (twitter, Facebook, etc) in monitoring events and sharing information will lead to a better management
eCall (the emergency solution for vehicles in case of crash) technology is based on GSM, which limits the amount of emergency data that can be sent
The aim of the EMYNOS project is to design, specify and develop a Next Generation emergency framework that resolves the above mentioned limitations.
EMYNOS Innovations by offering a solution including voice, video, realtime text, haptic devices, symbols, speech synthesis
Caller Location retrieval compliant to IETF and ETSI
Support for persons with various categories of disabilities (Augmentative and Alternative Communication users, motor disabled Assistive Technology users, blind and low vision users, deaf and hard of hearing users) by offering a solution including (voice, video, real time text, haptic devices, symbols, speech synthesis).
eCall extensions including photos and videos
Exploit social media to support disaster management operations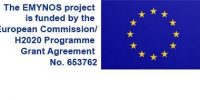 The EMYNOS project is fully funded by the European Commision/ H2020 Programme Grant Agreement No. 553762