SmarKo Health® is an award-winning sensor- and application-based technology focusing on the needs of patients and medical experts in the area of remote diagnosis and treatment. The functioning and tested prototype was developed by MCS Data Labs GmbH, Berlin (Germany). The following details reflect the status as per April 2017. For updates and further information, contact info@mcs-datalabs.com
Research and developement
SmarKo Health® taps into a market that is characterized by rapidly changing demographics, increasing cost for patient care and a high pace of technology innovation. The increasing number of apps and devices in the market on the one hand and sophisticated customer demand on the other hand will lead to standardization and require secure communication between various devices and external computer systems.
SmarKo® is a holistic solution with integrated sensor and application technology that aims at reducing stress in the healthcare sector by leveraging recent technological progress. While initially developed for chronic pain management, the system is open to third-party devices, both in vitro and in vivo, in order to address diverse patients' physical conditions. SmarKo® Health can be described as a highly customizable system, addressing particular needs of medical professionals.
Data privacy and security at European standards are central to the SmarKo® development. MCS Data Labs is committed to high ethical standards required for the handling of patient data. Different to other systems, patients can decide where to store their data.
SmarKo® is suited for data sharing, document management, clinical studies and customized data analytics, always within the existing legal framework.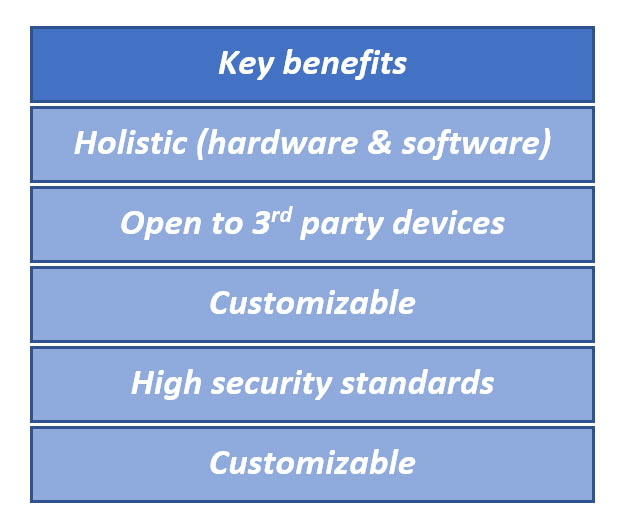 Contact us and tell us your needs. We are happy to work out detailed specs with you and provide an offer: info@mcs-datalabs.com.
Hardware
As a general principle, SmarKo® Health allows for data collection and analytics from available devices based on ISO/ IEEE 11073. Consequently, multiple physical conditions can be remotely monitored. This makes SmarKo® a flexible solution for clinics and medical experts.
SmarKo® also includes a smart wrist device collecting vital data. Bluetooth technology and an embedded SIM card make the carrying of an additional smart device redundant. Smart power management and a replaceable battery allow 24/7 monitoring at low operating cost. The device includes mechanisms for automatic and manual alerts being sent directly to the doctor.
A wireless charger (Qi standard) with WPS wireless charging for up to seven devices completes the hardware portfolio.


Applications
The SmarKo® Patient App allows patients to enter data about the nature and characteristics of perceived symptoms, to follow their assigned medication plans and to communicate with medical staff via video, audio and texting. Notifications can be sent and received, both manually and automatically. – A special application for doctors provides for the setting of notification thresholds and triggers, design of clinical studies, management of patients' medical plans, patient monitoring, patient communication and customizable data analytics.
Communication
Patients can communicate with doctors via video, audio and texting in real time. Emergency notifications are sent manually, based on a patient's perceived health, or automatically from sensors.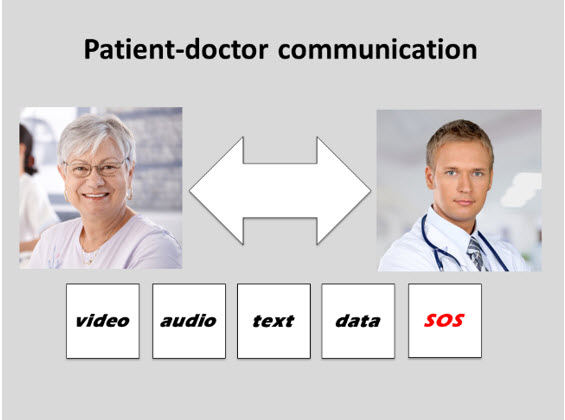 Backend
The backend consists of signaling component, SIP server and data storage. The signaling component manages application-internal notifications. The SIP server allows for patient-doctor real-time communication. Patient data are maintained at the data storage and made available to the doctor.
Architecture
For further information on the architecture and customizability of SmarKo®, please contact us.